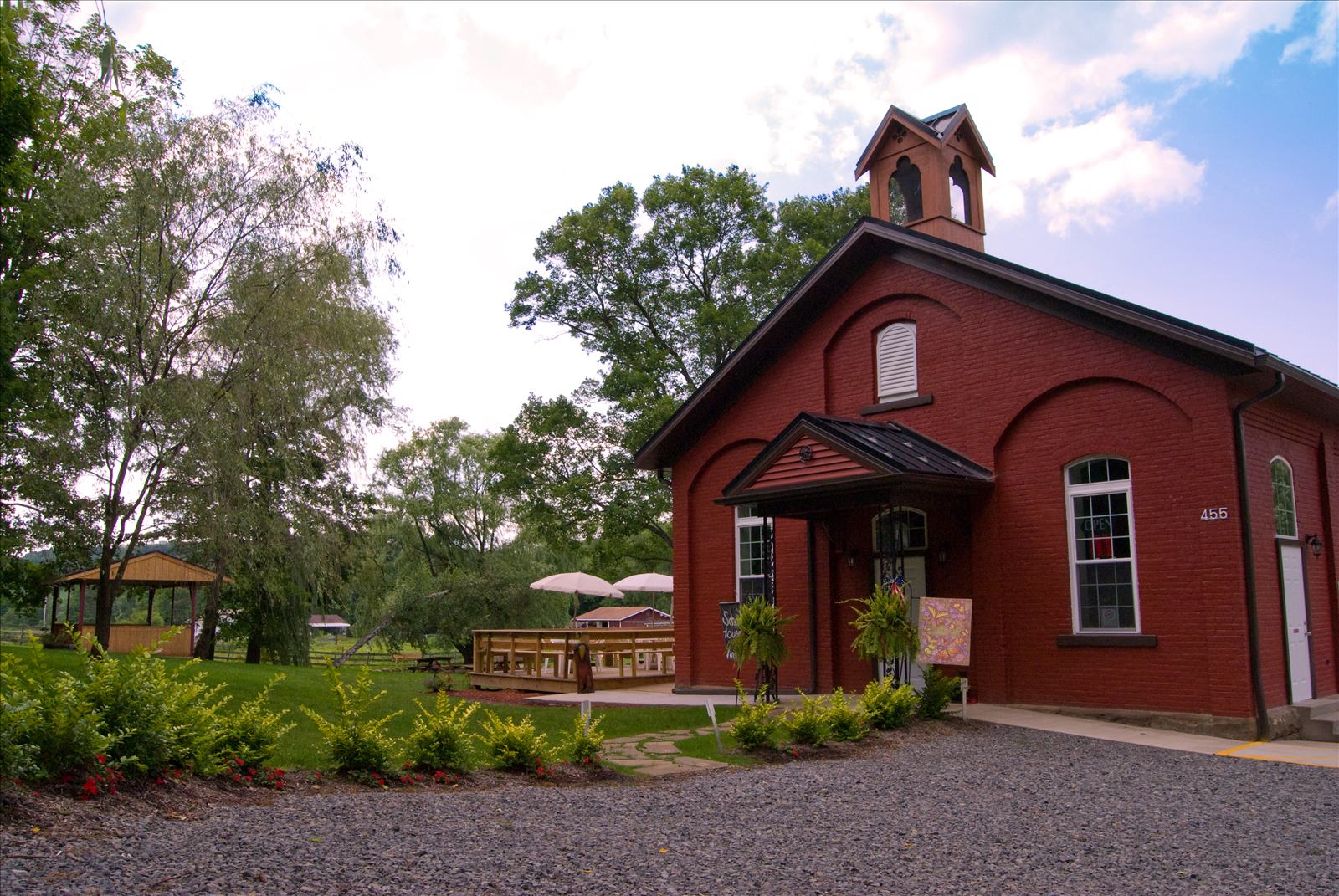 Welcome to the School House Winery website. We're glad you stopped by!
We are a boutique winery located in Dover, Ohio in a 127 year old renovated one room school house.
Enjoy our fine wines in a relaxing setting.


HOURS: TUESDAY THRU THURSDAY 12 TO 9
FRIDAY AND SATURDAY 12 TO 10
CLOSED ON SUNDAY AND MONDAY

***OPEN CHRISTMAS EVE/NEW YEARS EVE: 11:00 AM - 4:00 PM***

ZOAR MARKET and Lake Cable Drive Thru NOW SELLING OUR WINES!


MENU
10" VEGGIE PIZZA $10.00

10" PEPPERONI PIZZA $10.00

10" CHEESE AND GARLIC PIZZA
$8.00

MEAT & CHEESE PLATE $8.00
(Trail Bologna, Swiss, Colby /Jack & Muenster Cheese, variety of crackers,& spicy mustard.)

CHEESE PLATE $6.00
(Three Cheeses, variety ofcrackers,and spicy mustard)

MEATBALLS IN A BREAD BOWL, COVERED IN SAUCE AND MELTED CHEESE. $10.00.

6" ITALIAN SUB W/ CHIPS $8.00

SALAD IN A BREAD BOWL $10.00

PEPPERONI ROLL, DIPPING SAUCE AND CHIPS $8.00

SLICED SEASONED BREAD AND SEASONED OLIVE OIL. $5.00.

We except all major credit cards. We have a minimum purchase of $10.00 per transaction.


Calendar of Events
Date
Location
Event

Saturday, December 21, 2013

On Schedule
-Start Time: 7:30 PM

School House Winery
455 Schneiders Crossing Road N.W.
Dover, OH 44622
Tel: 330-602-9463

REN

Visit Web Site


---


Saturday, December 28, 2013

On Schedule
-Start Time: 7:30 PM

School House WInery
455 Schneiders Crossing Road N.W.
Dover, OH 44622
Tel: 330-602-9463

Kodachrome Babies



---


Saturday, January 11, 2014

On Schedule
-Start Time: 7:00 PM

School House WInery
455 Schneiders Crossing Road N.W.
Dover, OH 44622
Tel: 330-602-9463

Daniels & Rinehart



---


Saturday, January 18, 2014

On Schedule
-Start Time: 7:00 PM

School House WInery
455 Schneiders Crossing Road N.W.
Dover, OH 44622
Tel: 330-602-9463

REN



---


Saturday, January 25, 2014

On Schedule
-Start Time: 7:00 PM

School House WInery
455 Schneiders Crossing Road N.W.
Dover, OH 44622
Tel: 330-602-9463

Larry Notz



---

Page 1 of 7 NEXT »

33 Total Event Listings : Pages : 1 &nbsp&nbsp2 3 4 5 6 7