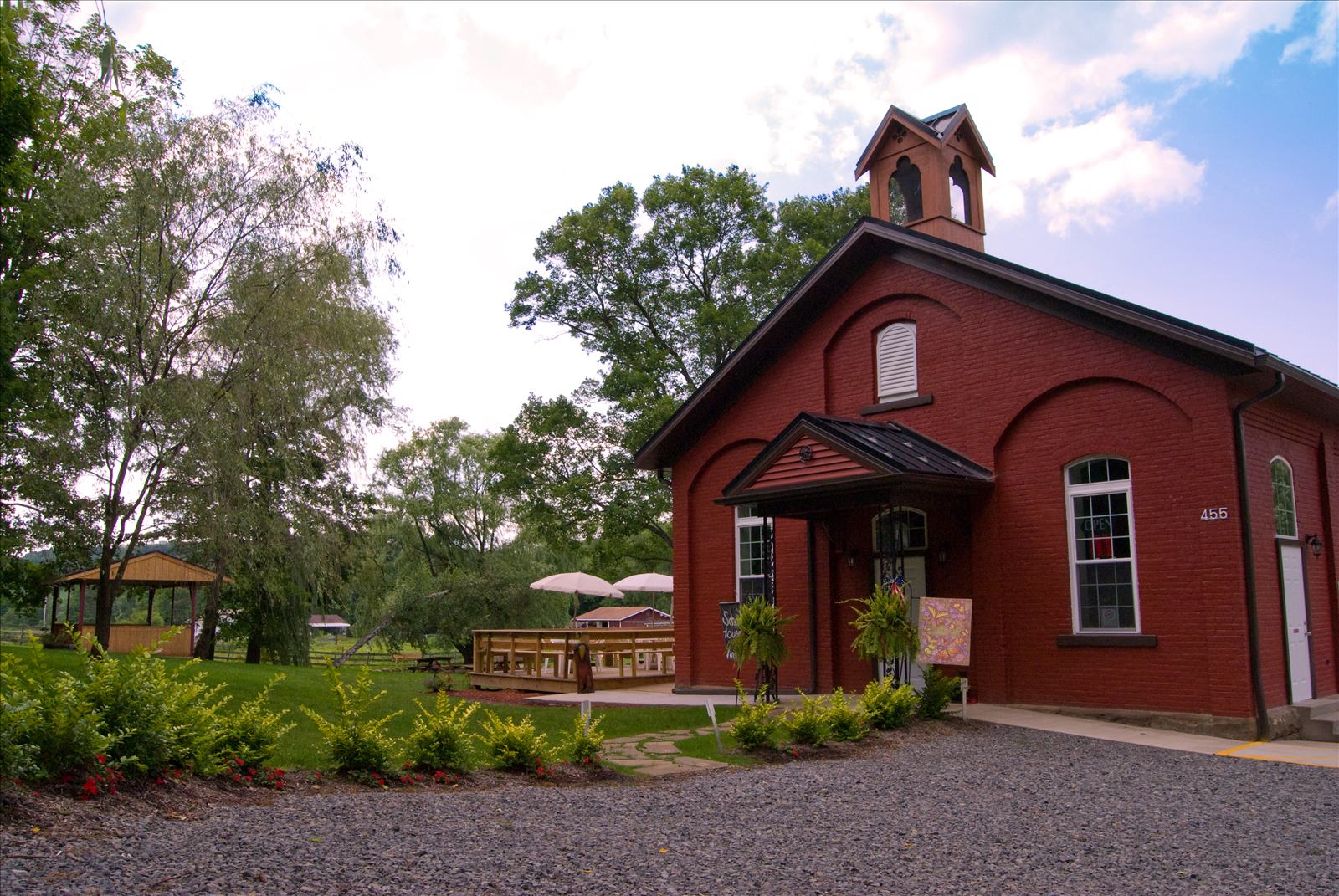 **OHIO'S MOST UNIQUE WINERY**
Welcome to the School House Winery website. We're glad you stopped by!
We are a boutique winery located in Dover, Ohio.
Established in an old renovated one room school house that was built in 1886.
Enjoy our fine wines in a relaxing setting.


HOURS: TUESDAY THRU THURSDAY 12 TO 9
FRIDAY AND SATURDAY 12 TO 10
CLOSED ON SUNDAY AND MONDAY

WE WILL BE OPEN FOR MEMORIAL DAY, MONDAY, MAY 26TH FROM 11 - 4,
STOP BY AND ENJOY THE DAY WITH US.

NOW SELLING OUR WINES!
Mako's Market & Pharmacy, Zoar Market and Leo's Lake Cable Carry Out

MENU
10" VEGGIE PIZZA $10.00

10" PEPPERONI PIZZA $10.00

10" CHEESE AND GARLIC PIZZA
$8.00

MEAT & CHEESE PLATE $8.00
(Trail Bologna, Swiss, Colby /Jack & Muenster Cheese, variety of crackers,& spicy mustard.)

CHEESE PLATE $6.00
(Three Cheeses, variety ofcrackers,and spicy mustard)

MEATBALLS IN A BREAD BOWL, COVERED IN SAUCE AND MELTED CHEESE. $10.00.

6" ITALIAN SUB W/ CHIPS $8.00

PIZZA SUB W/ CHIPS; $8.00

SLICED SEASONED BREAD AND SEASONED OLIVE OIL. $5.00.


Wine tastings are available during regular hours of operation at $.50 per taste. Tastings may be limited during our Saturday evening band nights. Please plan to come early to enjoy our award winning wine.

We accept all major credit cards. We have a minimum purchase of $10.00 per transaction.


Calendar of Events
Date
Location
Event

Saturday, April 26, 2014

On Schedule
-Start Time: 7:00 PM

School House Winery
455 Schneiders Crossing Road N.W.
Dover, OH 44622
Tel: 330-602-9463

Kodachrome Babies

Visit Web Site


---


Saturday, May 03, 2014

On Schedule
-Start Time: 7:00 PM

School House Winery
455 Schneiders Crossing Road N.W.
Dover, OH 44622
Tel: 330-602-9463

Larry Notz



---


Saturday, May 10, 2014

On Schedule
-Start Time: 7:00 PM

School House Winery
455 Schneiders Crossing Road N.W.
Dover, OH 44622
Tel: 330-602-9463

Randy Velez

Visit Web Site


---


Saturday, May 17, 2014

On Schedule
-Start Time: 7:00 PM

School House Winery
455 Schneiders Crossing Road N.W.
Dover, OH 44622
Tel: 330-602-9463

REN

Visit Web Site


---


Saturday, May 24, 2014

On Schedule
-Start Time: 7:00 PM

School House Winery
455 Schneiders Crossing Road N.W.
Dover, OH 44622
Tel: 330-602-9463

Daniels & Rinehart



---

Page 1 of 6 NEXT »

29 Total Event Listings : Pages : 1 &nbsp&nbsp2 3 4 5 6